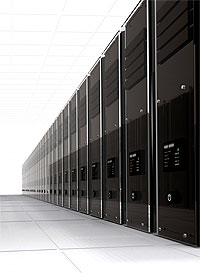 SurfZen is proud to offer professional and affordable internet services to businesses and community groups of all sizes. Whether you're a web designer, business owner, or group organizer, SurfZen provides tools and services to get your web site up and running quickly and easily.
Domain Name Registration
One of the most important investments you will make in your online presence is your domain name -- but it doesn't have to cost you an arm and a leg. Other domain registrars will charge upwards of $45 USD per year simply to register your domain, while SurfZen offers the same (or better) service at a fraction of the cost (typically $6.00 to $8.00). Your domain name is important, so shop around and compare prices and services. We're confident that you'll find our domain name registration services are the best.
Web Hosting
Don't let anyone tell you that web hosting is expensive. Next to your domain name, it is likely to be the least costly addition to your online presence. Most small to medium sized community groups and businesses will find all their hosting needs met for less than $100/year at SurfZen. That comes with a 99.9% uptime guarantee, and top notch e-mail and telephone support.

Visit us at http://www.SurfZen.com/ and get your project online today!