Welcome to Dark Publications, aka darkpub.com.
Your home on the web for books, movies and music in a dark vein. Whatever you're looking for, let us help you find it. Let our product categories inspire your searches or, if you know exactly what you want, type it in the search box to find it instantly.

Try the search function. We have hundreds of articles available that are not currently linked.

Try a search like "vampire anime" (in the apparel section), "vampire anime" (in video), "Skinny Puppy shirt" or "skull boots" ... Be creative, we might just have it!
---
Les Vampires

This legendary seven-hour silent French serial, one of the earliest and most original gangster films, combines realism and fantasy. Written and directed by Louis Feuillade, Les Vampires concerns an intrepid reporter's pursuit of a strange gang of jewel thieves terrorizing Paris. The gang ambitiously seeks political, psychological, and sexual domination of the city's social elite, with the seductive Irma Vep (an anagram of "vampire") as its brazen leader. While slow going at first, the 10-part serial becomes more and more fascinating with each episode, thanks in large part to the alluring Musidora as Irma Vep. Because of her many guises and frightful charms, she truly becomes a vampire of sorts.
---
Ankh Pendant, Sterling Silver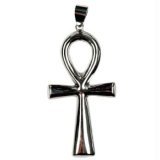 The Ankh, also known as the acrux ansata, is an ancient Egyptian hieroglyph meaning "eternal life". Egyptian gods, like Anubis (the god of the dead), are often portrayed carrying it by its loop, or bearing one in each hand, arms crossed over their breasts. It's association with life and death has linked the symbol in modern times with the concept of immortality, sanctuary, magic, and vampires. For example, in Neil Gaiman's graphic novel series Sandman the character of Death wears an ankh.
---
A LIfe Less Lived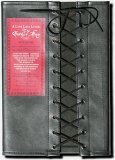 Yes, I was one of those kids: big, messy hair; black clothes; makeup on the weekends; surly demeanor with everyone but my friends. But my friends were legion. And what bonded us all? Goth music--dark, arty, dramatic, epic, apocalyptic. It gave us focus and refuge during those formative years. Pulling together artists that wouldn't normally be part of such a box set, this collection includes many of the most influential bands in the genre (the Cure, Bauhaus, Siouxsie and the Banshees, Sisters of Mercy, The Lorries, Neubauten, and Alien Sex Fiend). The collection also includes music videos, and a cover of the Cure's "Hanging Garden" by new-schoolers A.F.I. Excellent stuff.
---
The Curious Sofa: A Pornographic Work by Ogdred Weary

As the New York Times writes of Edward Gorey, "His satires (often of tawdry Victorian mysteries) are not mere commentaries on the manners and mores of a distant age; they are inventive narratives about evil adults, mischievous children, illicit lovers and improbable beasts." Or, in the case of The Curious Sofa, improbable furniture. As Gorey tells us on the cover, this is "a pornographic work" (pornographic horror, in fact) with a picture on every page.